MEET THE TOUR TEAM BEHIND SOS
A lot of hard work, planning and expertise goes into making sure the performance of The Sound of Springsteen not only goes without hitch…but wows everyone in attendance.
What you see on stage from SOS takes a lot of preparation, from setting up the stage, to sound, to lighting, to logistics and marketing to make sure you hear all about us…
What you see on stage from SOS takes a lot of preparation, from setting up the stage, to sound, to lighting, to logistics and marketing to make sure you hear all about us…
Time to meet the two bosses!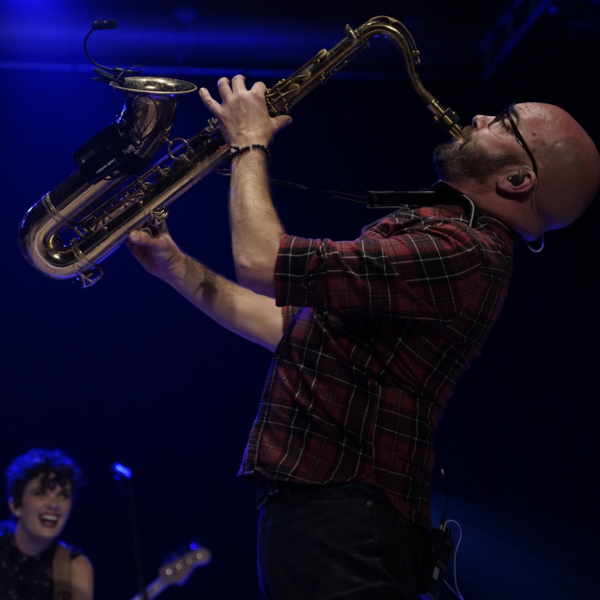 Born into a talented family with an artist Grandpa and a musician Father, there was very little doubt that Garreth would not follow in their creative footsteps.
Influenced by the music of Eric Clapton, Pink Floyd, John Mayer, Vince Gill, The Doobie Brothers, Little Feat, Jeff Beck, The Eagles, and of course, Bruce Springsteen, Garreth chose the route of music.
Performing with bands since the early age of 11, Garreth honed his musical abilities becoming a master of all trades, and a jack of none.
Beginning his professional career as a musician in 1998, Garreth subsequently worked with bands and artists including Off the Record with Mark Porch and continues to enjoy live and studio work with Jamie Moses, Stevie Lainge, David Dundas, Jacqueline Rawe, Linda Hayes, Roger Greenaway, Mike Moran, Madeline Bell, Graham Preskett, Keith Airey, PP Arnold, Mim Grey, Elio Pace and the Billy Joel Songbook. The latter being where he met our Phillipa Cookman. Paths crossed with our Sam Confrey when Garreth briefly replaced him in the Alter Eagles before being poached up to the bigger touring theatre production of The Illegal Eagles where Garreth still currently performs 12 years on. After admiring Bob, Jerry and Richard's talents from afar, strong friendships were formed when Garreth invited them to play as "BeS#arp" at his son's christening.
After many comments from fans drawing comparisons to his resemblance to "The Boss", Garreth decided to embark on producing a Bruce Springsteen theatre show, however, he left the vocal talents to Sam, preferring to take on the challenge of CEO/Producer of the show.
In what little spare time Garreth has, he enjoys renovating houses and taking football lessons from his 6 and 5-year old sons, Harry James and Ollie James.
Dale's introduction to and love of music started at a very early age, his Dad was a presenter on Radio Merseyside's Folk scene. Reputedly Paul Simon stayed with them whilst visiting the UK on several occasions there home had a recording studio so music and instruments were everywhere. As a teenager, Dale would spend every weekend working in the hi-fi shop that his Dad had opened and, when there was nothing to do in the shop, would go along to the local radio station and get to know the radio DJs who proceeded to take him under their wings.
From there, Dale went on to taking old reel to reel tape machines apart for the BBC's Radio Merseyside and started to learn his trade in sound engineering, started DJing in local pubs and then went on to work on radio roadshows & Folk Festivals across the country; toured with Pete Waterman and Michaela Strachan with 'The Hitman and Her'; and also worked in the West End, as No2 Sound Engineer at the Dominion Theatre on 'We Will Rock You'. After a stint touring, Dale spent 15 years as sales rep and manager at NW music and audio company, HW Audio, which is where he met Peter Kay. Peter would come into the shop at weekends and they got chatting; Dale went on to work for Peter's Goodnight Vienna Production Company, most notably working on Phoenix Nights, even appearing in the background of some of the episodes.
In the early 2000s, Dale set up his own company, working as sound engineer on various events and shows, including many musicals and pantos. Dale went on to work as an in-house Technician at the Bolton Albert Halls. In 2011, Dale set up sound and lighting company, WH Leisure, which continues to expand and work on ever bigger shows, including providing crew for shows on Tom Jones' 2021 'Surrounded by Time' tour; managing the entire production of the growing 'Tributes on the Hill' festival in Frodsham and 'Tributes on the Nash' in Manchester; and providing full production crew for the Sound of Springsteen tours, on which Dale works as the Front of House sound engineer.
The roles our team have to play